Adrian Rugina and Claudiu Petre, heroes that saved many at the club before the medics and firefighter arrived on the scene, and lost their life in the process, were decorated postmortem by President Iohannis with the Cross of Chevalier. Adrian Despot and Radu Ciprian Alexandru (ethnic Rrom) other heroes still alive.
 Romania-3 Days of Mourning.
A fire during a rock concert killed at least 27 people in a nightclub in Bucharest, Romania Friday, October 30, 2015.
According to multiple reports, the blaze during the band Goodbye to Gravity's set was caused by stage pyrotechnics that ignited a pair of columns covered in foam insulation in the Soviet-era factory-turned-venue Colectiv, The Telegraph reports.
Raed Arafat, a government emergency management official, told the local press that dozens of people were in serious condition - a few with burns covering 70 percent of their bodies - and that therefore the number of fatalities could rise.
The blaze left the 300 or 400 people packed inside scrambling toward the lone exit in one of Romania's deadliest fires in recent memory.
Delia Tugui, teacher at the American global School of Bucharest, was at the nightclub with her husband and son when the fire began. Three foreigners are reported to be among the wounded, though the UK Foreign Office said last night that it was not aware of any Britons involved in the incident. Emergency services were on the scene within 10 minutes and victims are being treated at 10 hospitals throughout the city. But authorities heading the rescue effort later said there had been a fire and no explosion.

Police have started an investigation and in the early hours of Saturday morning groups of sombre-faced officers were still sifting through evidence outside the club.
The names of 17 of the deceased victims and five of those injured remain unknown as many were not carrying identification. People rushed to the entrance but it was too narrow, and people panicked.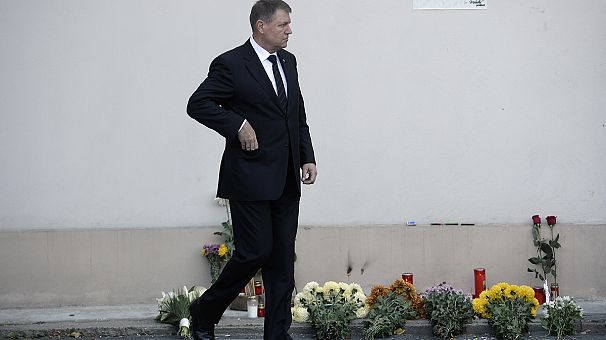 Romanian President Klaus Iohannis-3 days of mourning.
Thousands of people marched in central Bucharest on Sunday to honor the victims of a weekend disco fire as the death toll from the tragedy climbed to 30. Police said some 10,000 people marched from the city's emblematic University Square to the scene of the blaze, where many were already gathered before a sea of flowers and candles set out by mourners.
Authorities said three more badly burned victims succumbed to their injuries on Sunday, bringing the death toll from the late Friday blaze to 30, adding that the toll could still rise "significantly."
"I came to pay homage to those who died and to show my support for those who are fighting for their lives," one marcher in his early 30s, Gabriel Mistodie, told AFP.
"It was a tragedy caused in a way by corruption, indifference and incompetence ... and a sign that things should change in Romanian society."
Another marcher, who gave her name only as Oana, said they should have demonstrated "before, to say we would no longer go into such places because we aren't safe there."
Romanian media on Sunday slammed as "irresponsible" both authorities and the owners of the Colectivu nightclub where the fire and subsequent stampede killed 27 on the spot and left nearly 200 injured.
Some 140 were still in hospital on Sunday, with 35 in critical condition, according to state secretary for health Raed Arafat.
Investigators say 29 of the injured have yet to be identified.
President Klaus Iohannis had on Saturday pointed to safety failings at the nightclub, a former shoe factory.
"It is unimaginable that there could have been so many people in such a (small) space and that the tragedy happened so quickly because simple rules were ignored," he said after visiting the scene. "We already have indications that the legal regulations had not been respected."
The Evenimentul Zilei newspaper, under the headline "Coincidence, a curse or criminal negligence?" alleged that two other nightclubs belonging to one of the owners of the Colectivu club have also been destroyed by fire in recent years.
An editorial in the daily Gandul accused authorities of failing to impose stricter safety regulations in bars and discos after similar deadly accidents.
It blamed the disaster on "irresponsibility" and "unscrupulousness."
The home ministry said between 300 and 500 mostly young people had been in the disco 
 http://www.chinapost.com.tw/international/europe/2015/11/03/449914/p2/Thousands-march.htm
http://www.jurnalistii.ro/actualitate/stenograme-patronii-firmei-de-artificii-au-distrus-probele-care-i-ar-putea-incrimina/ 
 Beautiful Youth Generation Facebook Revolution in Romania. Corrupt Ponta government resigned as well as Piedone after 58 youth burned to death out of 150 critical in Club Colectiv in Bucharest on Halloween.
Youth nightly demonstrations all over the country and abroad against "Corruption that Kills!" and in memory of the martyrs!  They want a new Romania, without 26 years endemic corruption set up by communist Iliescu and his PSD penal cronies, that destroyed Romania's industry, created poverty and annalfabetism, and made  4 millions to leave the country to work abroad.
They want a new government, a new parliament, a new constitution and end to poverty generated by corruption and incompetence. 5 wanted to promote an album in Club Colectiv and sparked a new revolution! President Iohannis was first at the disaster site with flowers and candles!  His task now is to reset a profound corrupt country. As for the youth, in the streets-form their own party. Go youth!
  RIP
 http://www.soridapress.ro/romania-nenorocirea-colectiva/
  Romania's president has appointed Education Minister Sorin Cimpeanu as interim prime minister after protests led to the downfall of Victor Ponta.
The protesters have blamed widespread corruption for the deaths of 32 people in a nightclub fire and want widespread political reform.
President Klaus Iohannis has said he will hold further talks before making a final decision on a new prime minister.
He said he would consult civil society groups as well as political leaders.
"I will, for Friday afternoon, call a group that represents both the civil society and what we call the street. It is important to me to know their views and options," he announced.
Mr Cimpeanu will take over the role of prime minister until a new leader is nominated and approved by parliament. Without parliamentary approval, early elections will have to be called.
Mr Ponta, who is facing trial on corruption charges, had earlier gone on national TV to say he hoped his resignation would "satisfy the people who came out in the streets".
But tens of thousands of protesters took to the streets in Bucharest and other cities on Wednesday, for the second night running, demanding change.
The protesters' initial anger was directed at the authorities because they said the Colectiv nightclub, where Friday night's fire took place, had only been able to open because of bribery.
More than 100 people are still being treated for their injuries and there are fears the number of fatalities could rise.
 http://www.msn.com/en-us/news/world/romania-gets-new-pm-as-protests-go-on/ar-BBmRVVL?ocid=HPCDHP